Scalable family of embedded controllers with common peripheral blocks and registers.
Desktop and Industrial Super I/O
System Management Simplified
Super I/O Chips combine the functionality of many low-bandwidth device controllers into a single product. Microchip's Super I/Os have additional integrated features for total system management.
Microchip Advantage
Best-in-Class Product Lifecycles
Most Accurate System Monitoring in an I/O Controller
~70% smaller footprint compared to similar 3-Chip Solution
Industrial-Grade Operating Range
Full Legacy I/O Management
Serial Ports
Parallel Ports
Flexible GPIOs
Floppy Disk Companion
Keyboard/Mouse
Applications
Desktops & All-in-Ones
Industrial PCs
Set Top Boxes
Kiosks & ATMs
POS Terminals
Microchip's Portfolio of Super I/O controllers offer solutions for all types of embedded solutions. We offer simplified I/Os to fit your budget while delivering long-lasting performance. We also offer feature-rich Super I/Os, like the SCH3227, which incorporate flexible I/O control and accurate system monitoring in miniscule packages. This integration eliminates the need for other chips, saving space and reducing operating expenses.
Expansion and Legacy I/O
Microchip is a leader in providing I/O solutions for non-PC or embedded computing platforms. Microchip offers a growing line of I/O expanders, ranging from 6 to 100+ input/output ports and are available in a variety of packages.
Features
Up to 101 GPIO pins
Thermal Management
Glue Logic
Fan Control
Typical Applications
Single Board Computers (SBC)
Industrial PCs (IPC)
Point-of-Sale Terminals (POS)
Automated Teller Machines (ATM)
Network Gateway Devices
Print Servers
Gaming
---
Developing applications with motion/position sensors can require sophisticated knowledge and significant resources.
Because this can be difficult, Microchip has developed a solution that make it easy to design motion-based applications. The MM7150 motion module integrates Microchip's SSC7150 motion coprocessor along with the 9-axis motion sensors. It comes pre-programmed with sophisticated sensor fusion algorithms which intelligently filter, compensate and combine the raw sensor data to provide highly accurate position and orientation information.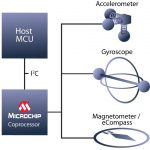 Key Benefits
Motion coprocessors filter, compensate and fuse raw 9-axis sensor data - Improved system performance with smoother, faster and accurate orientation data
Self-calibrating over time - Improves estimates of orientation
Low power - Suitable for battery powered applications
Outputs position and motion data over standard I2C connection - Works with most MCUs with I2C
SSC7102 motion coprocessor Windows® 8.1 certification – Proven outputs
Applications
Internet of Things (IoT)
Gaming
Remotes
Robots
Wearables
Physical therapy
Toys
Stabilization/Positioning
Transportation
Smart farms
Windows-based tablets, ultrabooks, notebooks and All-in-Ones (AiO)