Data Flash SPI Memory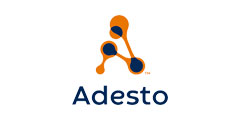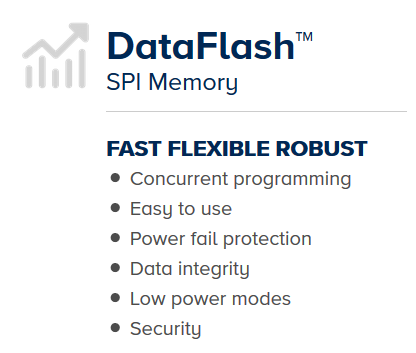 Most Efficient Flash Memory for Data Logging.
DataFlash's advanced dual SRAM buffer architecture makes it the most efficient memory for data logging. It also incorporates a suite of advanced features that save system power, reduce processtor overhead, simplify software development, and provide comprehensive data security and integrity options.
Key Features
Wide Vcc
Dual SRAM buffer
Low power operation extends system battery life
Byte-write provides Serial EEPROM functionality in a Serial NOR Flash device
Ultra-deep power down operates at >400nA
Extended Vcc operation allows the system memory to operate over the entire voltage range
Comprehensive security and unique ID features protect the device from outside tampering
DataFlash™ SPI Memory
| | | | | | |
| --- | --- | --- | --- | --- | --- |
| DENSITY | PRODUCT | SPEED | VCC RANGE | INTERFACE | STATUS |
| 2 Mbit | AT45DB021E | 85 MHz | 1.65V - 3.6V | SPI | Production |
| 4 Mbit | AT45DB041E | 104 MHz | 1.65V - 3.6V | SPI | Production |
| 4 Mbit | AT45DB041E Hi-Temp | 85 MHz | 1.65V - 3.6V | SPI | Production |
| 8 Mbit | AT45DB081E | 133 MHz | 1.7 V - 3.6V | SPI | Production |
| 16 Mbit | AT45DB161E | 104 MHz | 2.3V - 3.6V | SPI | Production |
| 16 Mbit | AT45DQ161 | 100 MHz | 2.3V - 3.6V | SPI / Dual / Quad | Production |
| 32 Mbit | AT45DB321E | 104 MHz | 2.3V - 3.6V | SPI | Production |
| 32 Mbit | AT45DB321F | 104 MHz | 1.65V - 3.6V | SPI | Production |
| 32 Mbit | AT45DB322F | 104 MHz | 1.65V - 3.6V | SPI | Production |
| 32 Mbit | AT45DQ321 | 104 MHz | 2.3V - 3.6V | SPI / Dual / Quad | Production |
| 32 Mbit | AT45DQ321 Hi-Temp | 40 MHz / 104 MHz | 2.3V - 3.6V | SPI / Dual / Quad | Production |
| 64 Mbit | AT45DB641E | 104 MHz | 1.7 V - 3.6V | SPI | Production |
Micron M25PE Replacements
| | | | | | |
| --- | --- | --- | --- | --- | --- |
| DENSITY | PRODUCT | SPEED | VCC RANGE | INTERFACE | STATUS |
| 2 Mbit | AT25PE20 | 85 MHz | 1.65V - 3.6V | SPI | Production |
| 4 Mbit | AT25PE40 | 104 MHz | 1.65V - 3.6V | SPI | Production |
| 8 Mbit | AT25PE80 | 133 MHz | 1.7V - 3.6V | SPI | Production |
| 16 Mbit | AT25PE16 | 104 MHz | 2.3V - 3.6V | SPI | Production |