Audio ICs

Audio Amplifiers
Nuvoton's high-efficiency audio amplifiers are designed to address the market's need for low power consumption and reduced switching noise for portable consumer devices such as smart phones, tablet PC, docking stations, portable audio and video players, LCD and LED TVs, and toys.  Product key features include ultra-low quiescent current, low EMI and high power supply rejection ratio (PSRR).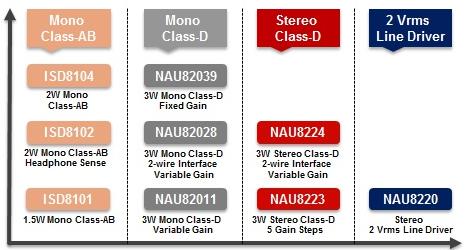 Datasheets
---
Audiocodecs
Nuvoton's high performance audio CODEC ICs are cost-effective solutions targeting consumer, telecommunication and automotive markets.  With very low power consumption in all key areas, unprecedented power-management flexibility and advanced, graphical evaluation system, the devices simplify designers' efforts and get their products to market quickly.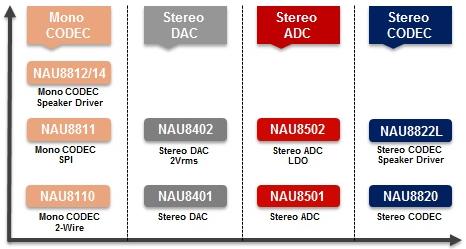 ---
Precision ADC Series
NAU7802 is a high-performance, cost-effective, low-power 24-bit sigma-delta ADC designed specifically for Weight Scales, Industrial Process Control, Strain Gauges, Data Acquisition, Portable Instrumentation and Fluid/Gas Analyzers.
The NAU7802 device is capable of up to 23-bit ENOB (Effective Number Of Bits)  performance.
 Datasheet NAU7802