Microchip`s Power Sourcing Equipment (PSE) ICs – PD69xx – supports latest bt-Standard which enables to deliver up to 90W applications

Our PSE ICs portfolio is the broadest in the industry, offering solutions that deliver up to 90W over standard Ethernet infrastructure. These plug-and-play solutions make it easy for system developers to transition to the latest IEEE® 802.3bt standard by enabling both pre-standard and IEEE-compliant PDs to receive up to 90W of power without changing existing switching or cabling. 
Key Features:
Simple Design and Best total BOM cost

Internal FET / Sense resistor / Protection Diode
Only 1 external component per port (1 capacitor)

Best total port resistance 350mOhm

Higher Efficiency
Less heat dissipated on board

IEEE802.3bt enabled

PD69208M up to 60W
PD69208T4 / 204T4 up to 90W

Backward compatibility and Legacy support
Scalability

One design supports multiple SKUs/solutions

Flexibility for single design to support 2-pair or 4-pair PoE solutions
Meet the high power requirements of 2-pair and 4-pair PDs including 802.11ac/ax access points, information kiosks, POS terminals, thin clients, 5G small cells, smart buildings, industrial automation systems and connected LED lighting luminaires/sensors
Upgrade an existing Microchip Gen 6 PSE chipset to the latest IEEE 802.3bt standard via a software update; no hardware changes required
Leverage dynamic and emergency power management software capabilities for efficient power supply usage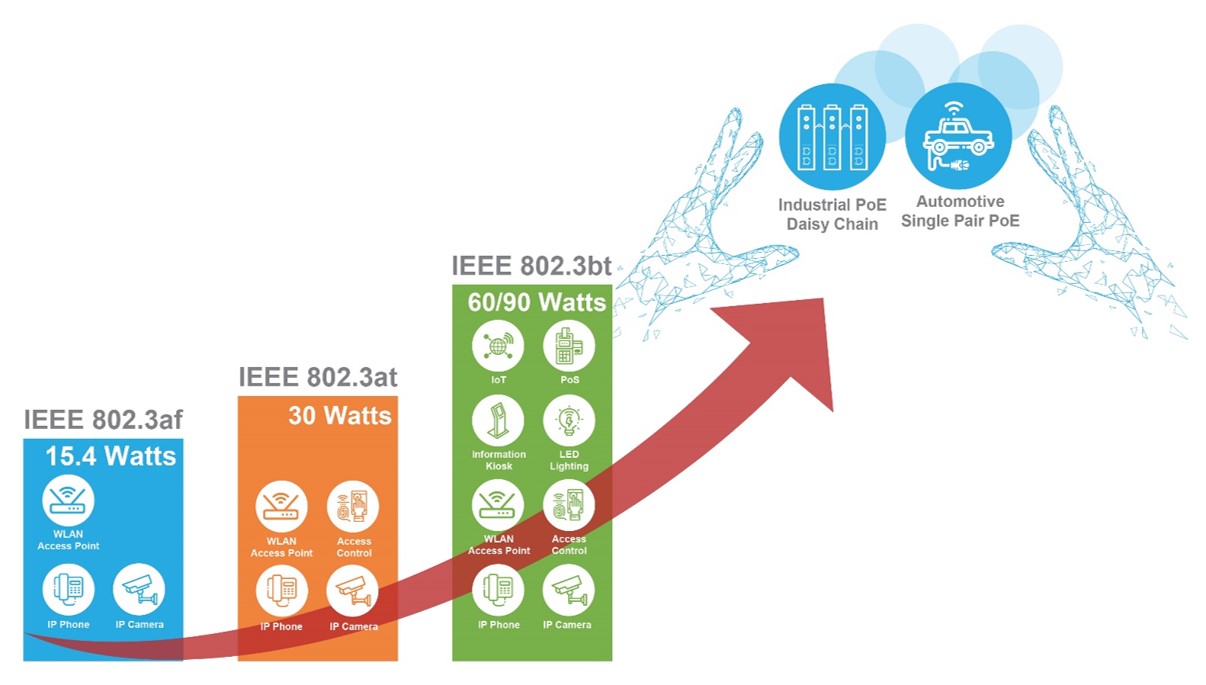 Our PSE ICs are used in a variety of applications including:
Enterprise, SMB and industrial Ethernet switches 
Gateways
Routers
PD-PSE daisy chain applications
As a long-time innovator in Power over Ethernet (PoE) technology, Microchip is the only supplier of PoE PD ICs, PSE ICs, midspans/injectors and test equipment. And the only one who is able to support complete bt-Standard technology support for their complete PoE portfolio.
Within next Ineltek Newsletter we will show up benefits to use Microchip`s PD ICs and Midspan Systems within various of customer applications.