Nuvoton Proudly Presents NuMicro™ Cortex®-M4 NUC472 Series
Nuvoton Technology Corporation launched the new flagship member of NuMicro™ microcontroller family - NUC472 series, the ARM® Cortex®-M4 32-bit microcontroller embedded with ARM® Cortex®-M4F core, high-density flash 512 KB, industrial Ethernet 10/100 MAC, industrial USB OTG/HS Device, symmetric encryption/decryption hardware accelerator for industrial control and applications which need rich communication interfaces and high computing power.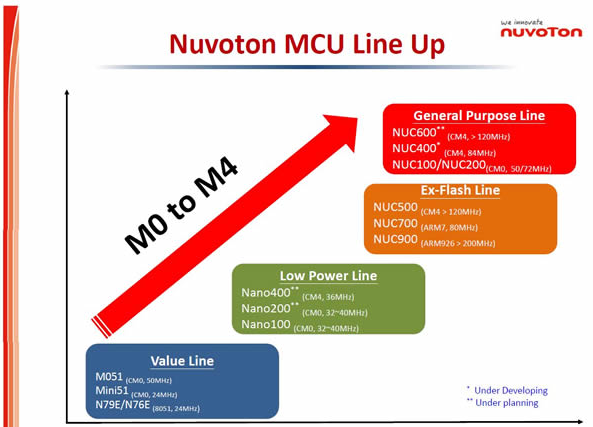 The NuMicro™ NUC472 series embedded with Cortex®-M4F core has DSP extensions and a Floating Point Unit, and runs up to 84 MHz with 512/256 KB embedded flash, 64 KB embedded SRAM and 16 KB ISP loader flash. It is also equipped with plenty of peripheral devices, such as Ethernet 10/100 MAC, USB OTG/HS Device with on-chip PHY, two 12-bit ADCs with 16 channels, symmetric encryption/decryption hardware accelerator, two CANs, four Timers, Watchdog Timers, RTC, PDMA, EBI, six UARTs supporting LIN and RS485, six Smart Card interfaces supporting ISO7816-3 and UART, four SPIs, two I²S, five I²C, PWM Timers, image sensor interface, SD Host, GPIO, OP amplifiers, analog comparators, temperature sensor, Low voltage reset and Brown-out Detector. Moreover, the NUC472 series operates at wide voltage 2.5V ~ 5.5V and wide temperature, -40 ~ +105℃ and supports the LQFP100, LQFP128, LQFP144 and LQFP176 package types. This makes the NUC472 series quite suitable for industrial automation, home automation, motor control, security system, communication system, and consumer electronics.
The NuTiny-SDK-NUC472 is a development kit which supports the NUC472 series to work with Keil RVMDK, IAR EWARM evaluation development environment – a free and open development tool, including project manager, editor, compiler tools and debugger. Additionally, Nuvoton provides the ISP (In System Program), ICP (In Circuit Program) and IAP (In Application Program) function, by either on-line or off-line programming system to update flash memory program.
The NUC472 is now in volume production and offers four package types - LQFP100 (14mmx14mm), LQFP128 (14mmx14mm), LQFP144 (20mmx20mm) and LQFP176 (24mmx24mm) for various applications.
Nuvoton Technology continues to expand product competitiveness and provides cost-effective microcontroller products to meet customer demand.
For further information please visit NuMicro™ NUC472 series.
To receive more information please contact an Ineltek office within your area.