Our Power Over Ethernet (PoE) injectors/midspans and switches offer industry-leading solutions for any PoE application. This complete portfolio of PoE systems enables delivery of up to 90W of flexible and reliable power over the Ethernet network to WLAN access points, network cameras, IP telephones, IP cameras and other IP-based devices. Our vendor-agnostic solutions support a wide range of applications in a variety of indoor, outdoor and industrial environments.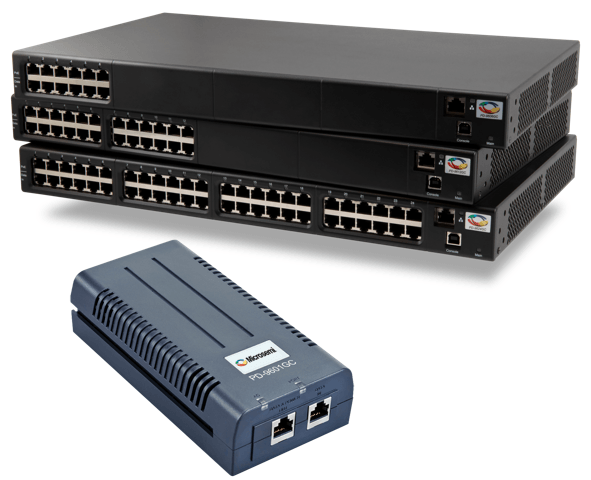 These solutions make it easy for users and system engineers to transition to the latest IEEE® 802.3bt standard by supporting both pre-standard and IEEE-compliant PoE devices up to 90W of power, without having to change network switches or cabling infrastructure.
As an innovator and thought leader in PoE technology, Microchip is the only supplier of PoE Powered Device (PD) ICs, PoE Power Sourcing Equipment (PSE) ICs, PoE systems (injectors/midspans and switches) and test equipment.
Key Benefits of Our PoE Systems:
Comply with IEEE 802.3af/at/bt industry standards
Leverage energy-efficient PoE of up to 90W with full power capabilities
Single-port and multi-port PoE injectors/midspans and switches
Indoor, outdoor and industrial solutions
AC- and DC-powered options
Multi-Gigabit solutions up to 10 Gbps
Secured enterprise-level management software
Worldwide Certifications and Safety Approvals
Private Label Option – Full product customization
Low Noise Emissions – EMI Class B
PoE injectors and midspans:
Users can power any combination of pre-standard and IEEE 802.3bt-2018-compliant PDs by installing the single- or multi-port solutions between PDs and their existing switch.
Family includes single- and multi-port options that will also enable new IEEE 802.3bt-compliant switches to power pre-standard PDs.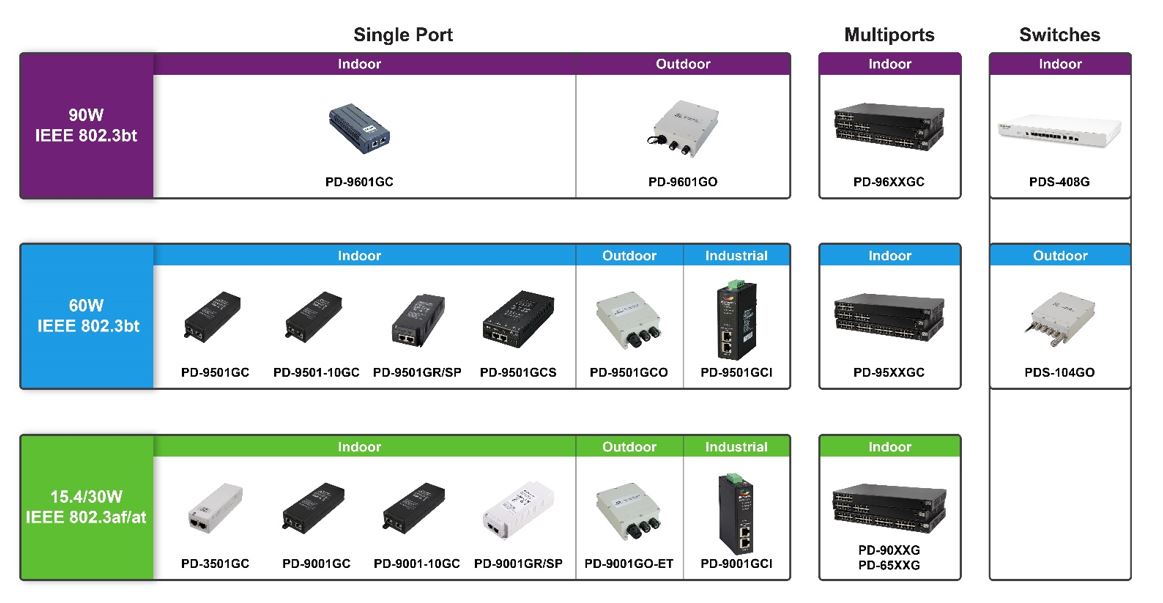 Private Label – OEM solutions