Microchip Simplifies the Design of Low-Power LCD Applications
PIC16F19197 Microcontroller Family Combines Battery-Friendly LCD Drive with Core Independent Peripherals and Intelligent Analog
CHANDLER, Ariz., May 31, 2017 — A new family of low-power microcontrollers (MCUs) for driving Liquid Crystal Displays (LCD) featuring Core Independent Peripherals (CIPs) and intelligent analog is now available from Microchip Technology Inc. (NASDAQ: MCHP). The ninemember PIC16F19197 family includes a battery-friendly LCD drive charge pump, 12-bit Analog-to-Digital Converter with computation (ADC2), a low-power comparator and active clock tuning of its high-frequency oscillator. They are the first 8-bit MCUs optimized for popular low-power and battery-powered touch-enabled LCD applications.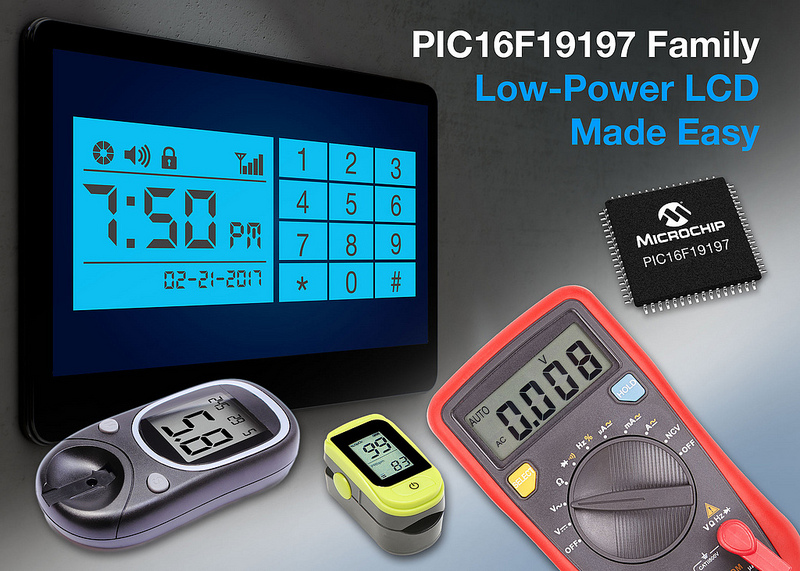 The PIC16F19197 family consists of 28- to 64-pin devices with up to 56 KB Flash and 4 KB RAM. The charge pump ensures that LCD screens maintain consistent contrast even as battery voltage drops. The ADC2 automates signal acquisition and processing tasks, making robust touch buttons and sliders easy to implement. Additionally, the Active Clock Tuning feature provides customers with an extremely stable oscillator across the entire voltage and temperature operating range. The PIC16F19197 family is able to accomplish this entirely in hardware rather than relying upon software.
The family also features a Real Time Clock and Calendar (RTCC) with battery backup and high-current I/O pins to directly drive the LCD backlighting. Additionally IDLE/DOZE low-power modes and Peripheral Module Disable (PMD) extend battery life. All of these features are offered along with the ability to drive up to 360 LCD segments, making the PIC16F19197 family an ideal choice for battery-powered LCD applications.
"This PIC16F19197 family makes the design of low-power LCD applications easy," said Steve Drehobl, vice president of Microchip's 8-bit MCU division. "All of these new features can be set up in MPLAB® Code Configurator (MCC), significantly reducing development time and shortening time to market."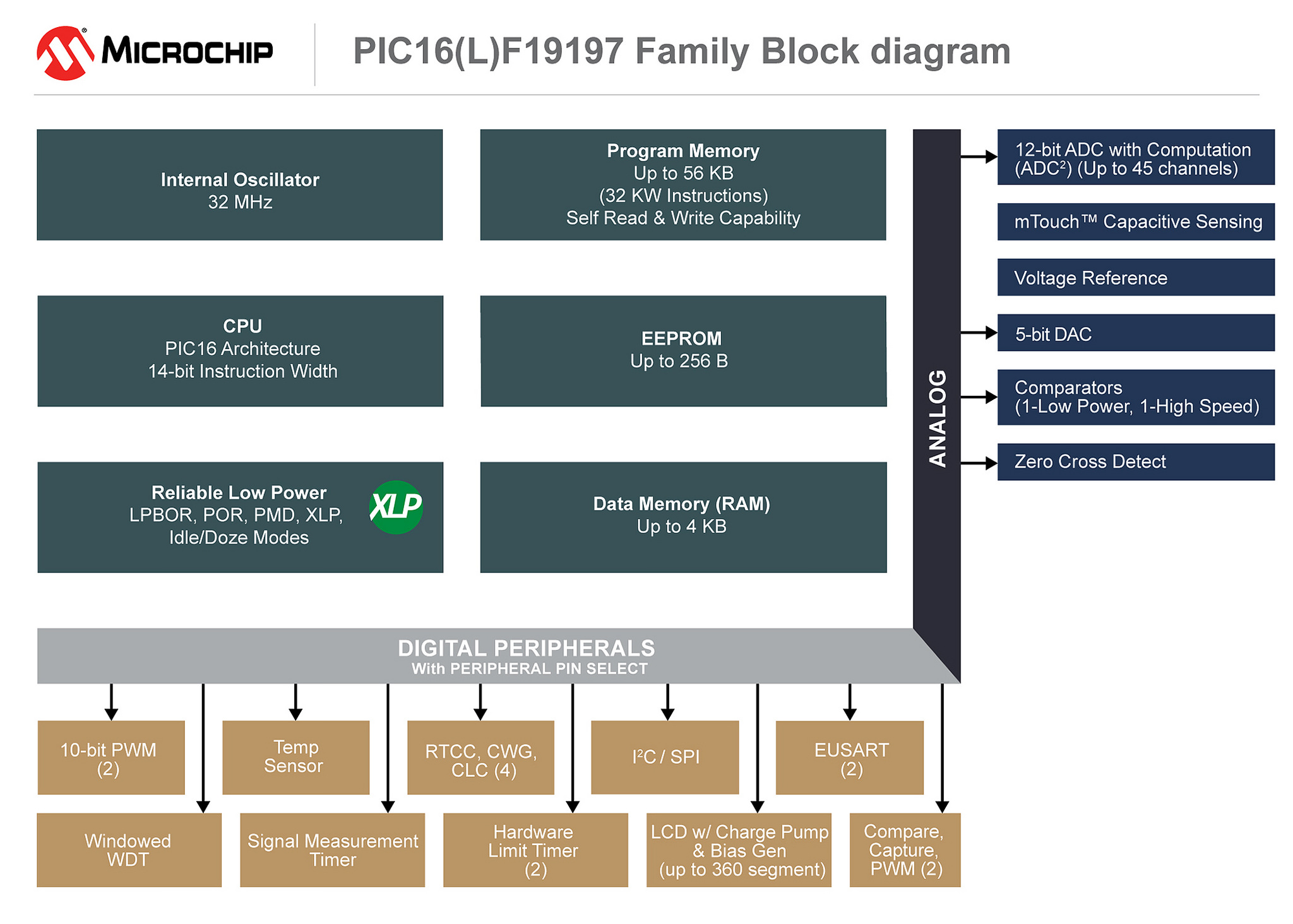 Development Support
The family is supported by the MPLAB Code Configurator (MCC), which is a free plug-in for MPLAB X and MPLAB Xpress Integrated Development Environments, that provides a graphical interface for the configuration of peripherals and functions specific to your application. The Microchip LCD XLP Explorer Development Board (part #DM240314) is available today and supports evaluation of the PIC16F19197 family of MCUs.
For more information about the PIC16F19197 family of products, visit www.microchip.com/pic16f19197family
To receive even more information like technical data sheets or price information please contact an Ineltek office within your area or contact us at info@ineltek.com.