Microchip – SAMA5D2 ARM® Cortex®-A5 based MPU Released to Production
The Microchip SAMA5D2 MPU delivers the world's lowest power consumption for all MPUs in its class. This MPU offers with just the right price-to-performance ratio for applications requiring an entry-level MPU and extended industrial temperature range (-40 to 105°C ambient temperature).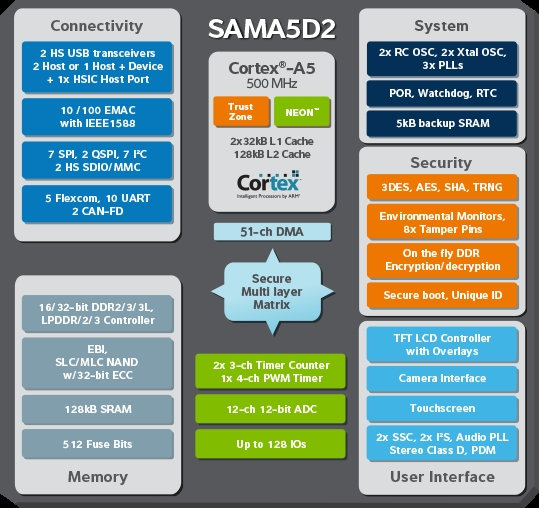 New features of the SAMA5D2 Series:
DDR controller supporting (LP)DDR3/DDR3L memories with on-the-fly decryption
QSPI Flash interface with eXecution in Place (XiP) support and on-the-fly decryption
Ultra-small 8 × 8 mm(?) package with low profile to address space-constrained applications
New 50 µA backup mode with DDR in self-refresh and low-power retention mode with ultra-fast 15 µs wake up
High-grade security features to support PCI-certified applications
Rich audio subsystem with new audio class D amplifier and PDM microphone input
USB HSIC interface
Peripheral touch controller supporting buttons, sliders and touch surface
SAMA5D2 Derivatives Comparison Table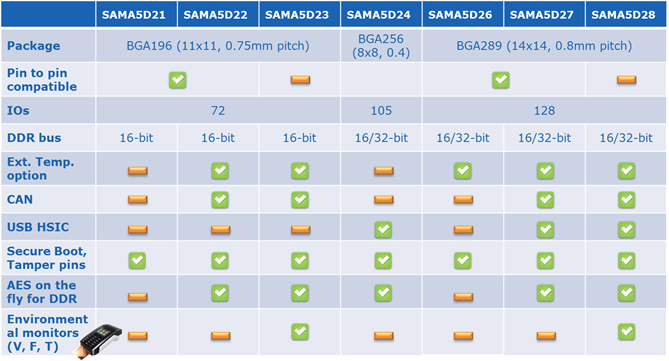 Target Applications and End Products

Small HMIs/Control Panels (white goods, alarm systems, etc.)
IoT/Secure Gateways
POS Terminals and Imaging
Battery-Operated Systems
Hardware Tools
Programming tool:
SAM-BA 3.1.3 released on atmel.com

Command line only to increase flexibility

Secure SAM-BA 3.0 (secure boot loader)

Under NDA only; please contact Atmel Sales

SAMA5D2 XPlained Ultra revisions B Evaluation Board available now:

Part Number is ATSAMA5D2B-XULT
Based on the ATSAMA5D27B-CU superset device in BGA289
4 Gb of DDR3L
4 GB of eMMC
128 Mb Macronix QSPI Flash (new)
Atmel Xpro WINGS connectors (new)
eMMC/SD Boot limitation is overridden with a bootstrap loaded into QSPI memory
Linux4Sam version 5.3 pre-loaded.