Microchip Launches New Generation of 8-bit AVR MCUs with Core Independent Peripherals
The new ATtiny817/816/814/417 devices provide all the right features to help drive product innovation including small, low pin count and feature-rich packaging in 4 KB or 8 KB of Flash memory. Other integrated features include a CIP called Peripheral Touch Controller (PTC); Event system for peripheral co-operation, custom programmable logic blocks; self-programming flash for firmware upgrades; non-volatile data storage; 20 MHz internal oscillator; high-speed serial communication with USART; operating voltages ranging from 1.8 V to 5.5 V, 10-bit ADC with internal voltage references; and sleep currents at less than 100 nA in power down mode with SRAM retention.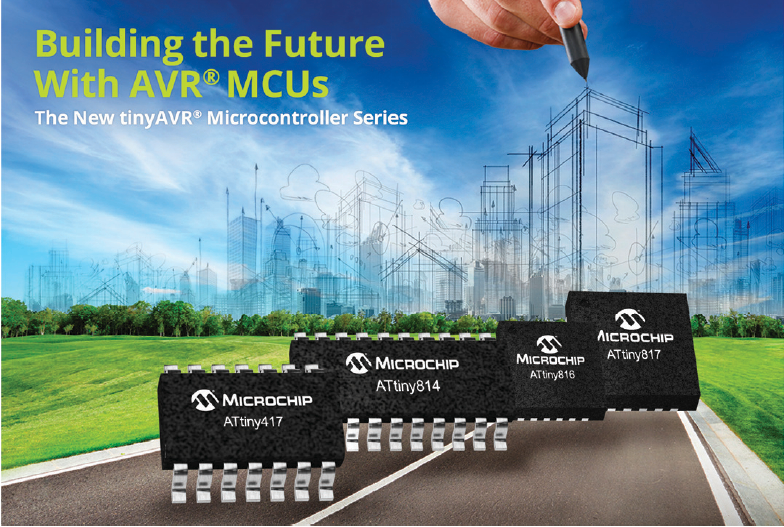 Features
8-bit AVR MCU with up to 20 MHz HW mul
Self programming from full voltage range
Internal oscillator: ±2% across 0 to 70°C
Various levels of internal VREF
Timer/counters: 1 × 16-bit GP (3-ch), 1 × 16-bit capture timer, 1 × 12-bit PWM
16-bit RTC
1 UART, 1 SPI, 1 I2C
12-channel ACD, 10-bit, 115 ksps
AC: 1× high speed
Custom logic/CRC scan
PTC with driven shield, self cap and mutual cap
12–22 I/Os
Packages: 24-pin QFN 4 × 4, 20-pin QFN 3 × 3, 20-pin SOIC300, 14-pin SOIC150
1.8–5.5V
−40 to 105°C, −40 to 125°C
New TINY product overview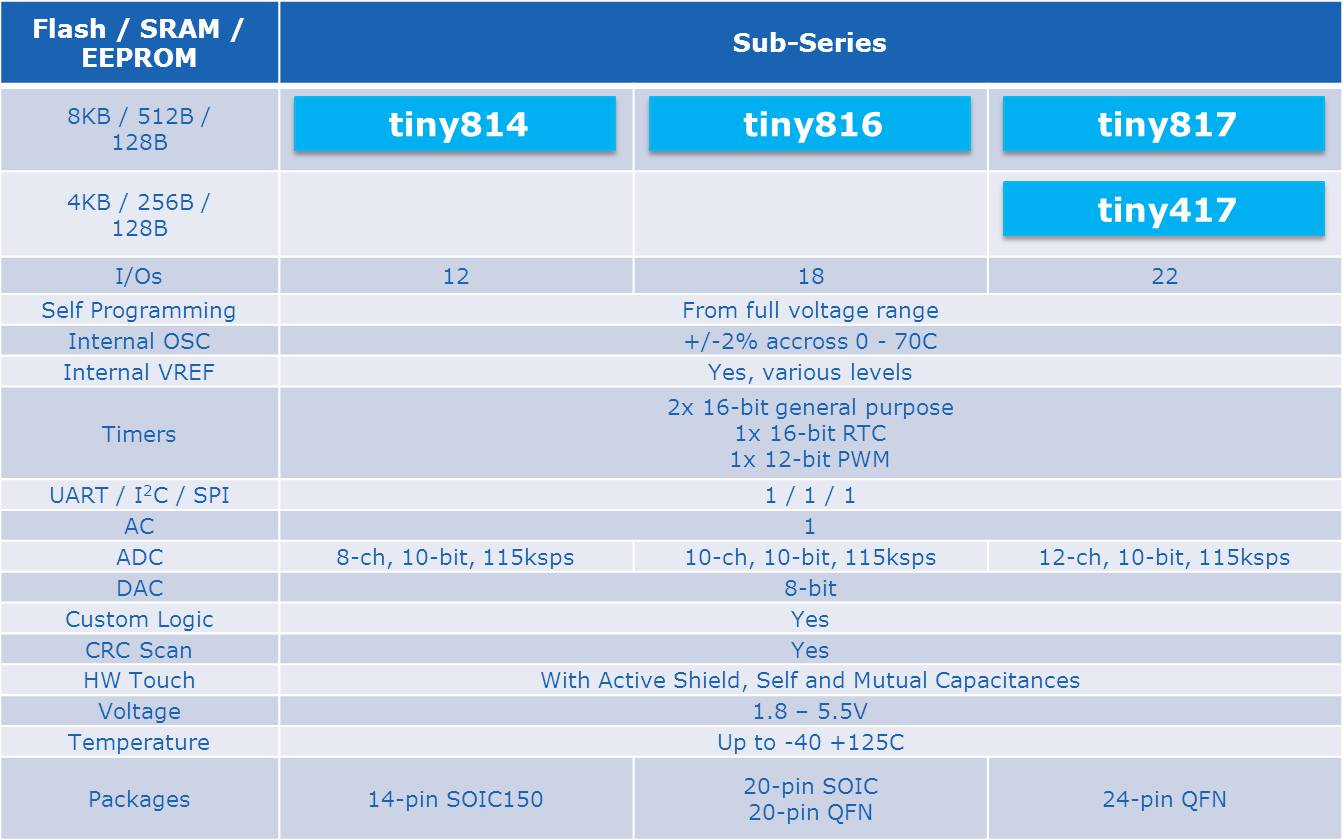 Development Tools
Tiny817 Xplained-Mini (ATTINY817-XMINI)
The ATtiny Xplained Mini Evaluation Kit is a hardware platform for evaluating the ATtiny817, ATtiny816, ATtiny814 and ATtiny417 tinyAVR microcontrollers. The evaluation kit comes with a fully integrated debugger that provides seamless integrationwith Atmel® Studio.
To receive even more information like technical data sheets or price information please contact an Ineltek office within your area or contact us at info@ineltek.com.
For more information click here (Link: http://www.atmel.com/products/microcontrollers/avr/tinyavr.aspx )