Microchip Launches Lowest Power, Cost-Effective PIC32 Family With Core Independent Peripherals
New PIC32MM Family is Ideal for Internet of Things, Consumer, Industrial Control and Motor Control Applications
The Microchip PIC32MM family bridges the gap between the company's popular PIC24F XLP and PIC32MX families. The new family is the first PIC32 to feature core independent peripherals, designed to offload the CPU for lower power and lower system design.
Key Features
Low Power: optimize power consumption in battery applications — Low Voltage Sleep Mode with RAM retention < 500nA
Low Cost — Prices as low as $0.60 in high volume
Small Packages — 4x4mm – 20 QFN, 28 uQFN; 5x5mm – 40 uQFN; 6x6mm – 28 QFN, 36 QFN
Core Independent Peripheral Integration — ADC, Comparators, RTCC, WDT; Configurable Logic Cells (CLC); Flexible PWMs / IC / OC / Timers – MCCP & SCCP
Analog Integration — 12-bit 200ksps ADC; 5-bit DAC; Comparators
Supported by MPLAB Code Configurator (MCC) for Easy Set-Up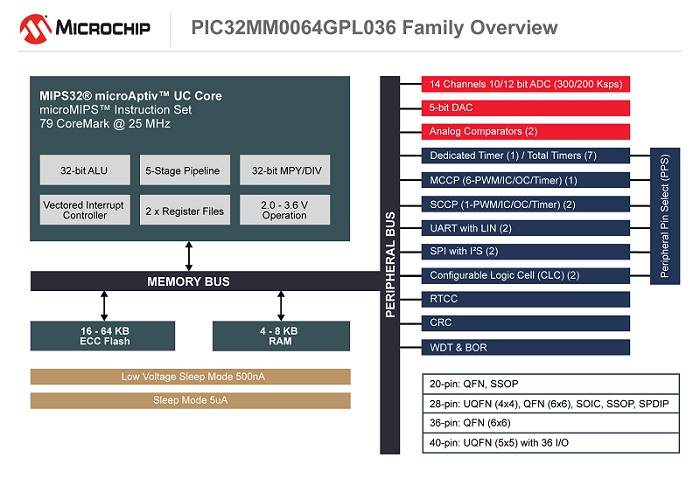 Development Support
To help accelerate evaluation and development, a new PIC32MM processor plug-in module is available (MA320020) which plugs into the Explorer 16 Development Board (DM240001). The entire family of PIC32MM devices is supported by Microchip's professional tool ecosystem that includes MPLAB X IDE and the MPLAB XC compiler. The MPLAB Code Configurator, a plug-in to the MPLAB X, helps with easy peripheral setup, device configuration and pin mapping.
Explorer 16/32 Development Board has been updated! 
For a long time now, the Explorer16 board has been a flexible and convenient development, demonstration and testing platform for 16-bit PIC24 MCUs, dsPIC® DSCs and 32-bit PIC32 MCUs.  The board features all the necessary hardware to begin developing and debugging a complete embedded application.  It accepts Processor Plug-In Modules (PIMs) for easy device swapping. In addition the boards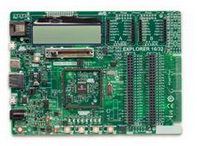 are expandable through the use of PICtail™ Plus daughter cards and new for the updated version, mikroBUS™ accessory boards.  The new board also features an integrated PICk it™-On-Board (PKOB), but can also be coupled with MPLAB ICD 3 In-Circuit Debugger or MPLAB REAL ICE™ real-time emulation and debug facilities to enable faster evaluation and prototyping of applications.  Orderable PN: DM240001-2).