Microchip Launches Its First Sigfox FCC-certified Long-Range RF Transceiver and Connectivity Development Kits for IoT Applications
Microchip announced its first Sigfox FCC-certified RF-transceiver and connectivity development kits for Long-Range-Wide-Area-Network (LPWAN) applications. With this device and kits, Microchip will be the only company offering solutions for both the LoRa® and Sigfox markets.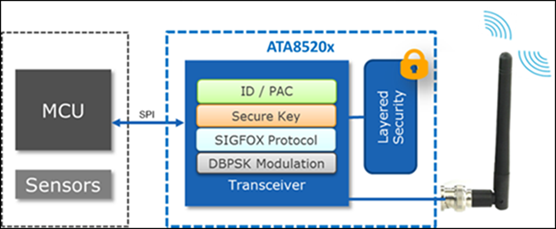 The ATA8520E RF transceiver comes preprogrammed with all Sigfox- specific elements including a protocol handler, a unique ID, a Porting Authorization Code (PAC) activation key and a device-specific secret key for message encryption.  The 902/905 MHz North American and 868 MHz European frequency bands are built in. The device is locked and can be easily controlled by a SPI interface and a few API commands.
The ATA8520E is based on the ATA851x transceiver UHF component with an embedded 8-bit AVR® core that offers 20 KB Flash and 1 KB SRAM. It can operate in three sub-bands in the frequency ranges of 310 to 956 MHz. The output power is up to 14.5 dBm and is programmable in 0.4 dBm steps. The typical sensitivity at 434 MHz with FSK modulation and 0.75 kbps data rate is -122.5 dBm. The ATA8520E comes in a 5 × 5 mm 32-pin QFN package.
Key Features
Out of the Box solution with highest integration level of SIGFOX functionalities
SIGFOX protocol stack, SIGFOX ID, PAC code and Encryption key are stored and secured inside the chip – everything is locked
Dual mode operation supports the EU (ETSI) 868MHz and US (FCC) 902MHz SIGFOX network
Flexible solution – can be combined with any host microcontroller, SPI interface
Extreme low power consumption:— in TX mode: 31.8mA at +13.8dBm in ETSI 868MHz mode, 16.7mA at +9.5dBm in FCC 902Hz mode; in RX mode: 10.5mA; in OFF mode: 5nA
 SIGFOX Toolkit ATA8520-EK4-E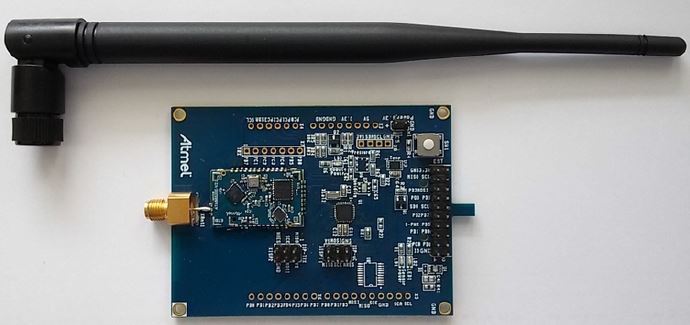 The ATA8520-EK4-E stand-alone kit is ideal for evaluation of the Atmel ATA8520E SIGFOX compliant transceiver and operates in the European 868MHz ISM band. The kit is SIGFOX Ready™, CE certified and supports class 0 output power. The evaluation kit comes with a fully preprogrammed ATA8520E device including SIGFOX ID & PAC code for registration in the SIGFOX backend and an antenna to be connected to the SMA connector. The ATA8520-EK4-E kit need an external power supply or the ATBATTERY-CASE-2AAA from Atmel.
LoRa vs. Sigfox Key Characteristics
 

 
 

Business Model

Public network service

sell (subscription)
by Sigfox

Private or public network,
technology sell

Coverage

All continents and countries.

"Free roaming"

Local or country wide deployments

Topology

Ultra-Narrow-Band (UNB) and
Software-Defined-Radio (SDR),
Point to Multi-point

Chirp-Spread-Spectrum (CSS) proprietary radio technology
(wideband CDMA),
Point to Multi-point

Frequency bands

Free ISM bands, ETSI & FCC:
EU: 868 MHz for Europe (RCZ1)

North America: 902/905 MHz (RCZ2)

Other regions to be available in the future

Free ISM bands, ETSI & FCC:

EU: 868 MHz/433 MHz

North America: 902-928 MHz

China: 779-787 MHz

Infrastructure Cost

Base stations installed and operated by Sigfox or Sigfox-Network- Operators (SNO) partners

Cellphone concept

Data provided in Sigfox cloud

Part of the system cost.

Gateways have to be installed for private networks
as well as cloud systems

Device Ecosystem

Open and large partner ecosystem

Semtech

Microchip content

Single-chip solution: µC with TRX

MCU + Semtech radio

module (above combined)
To receive even more information like technical data sheets or price information please contact an Ineltek office within your area or contact us at info@ineltek.com.