Microchip: Introducing the PIC32MM Curiosity Development Board – DM320101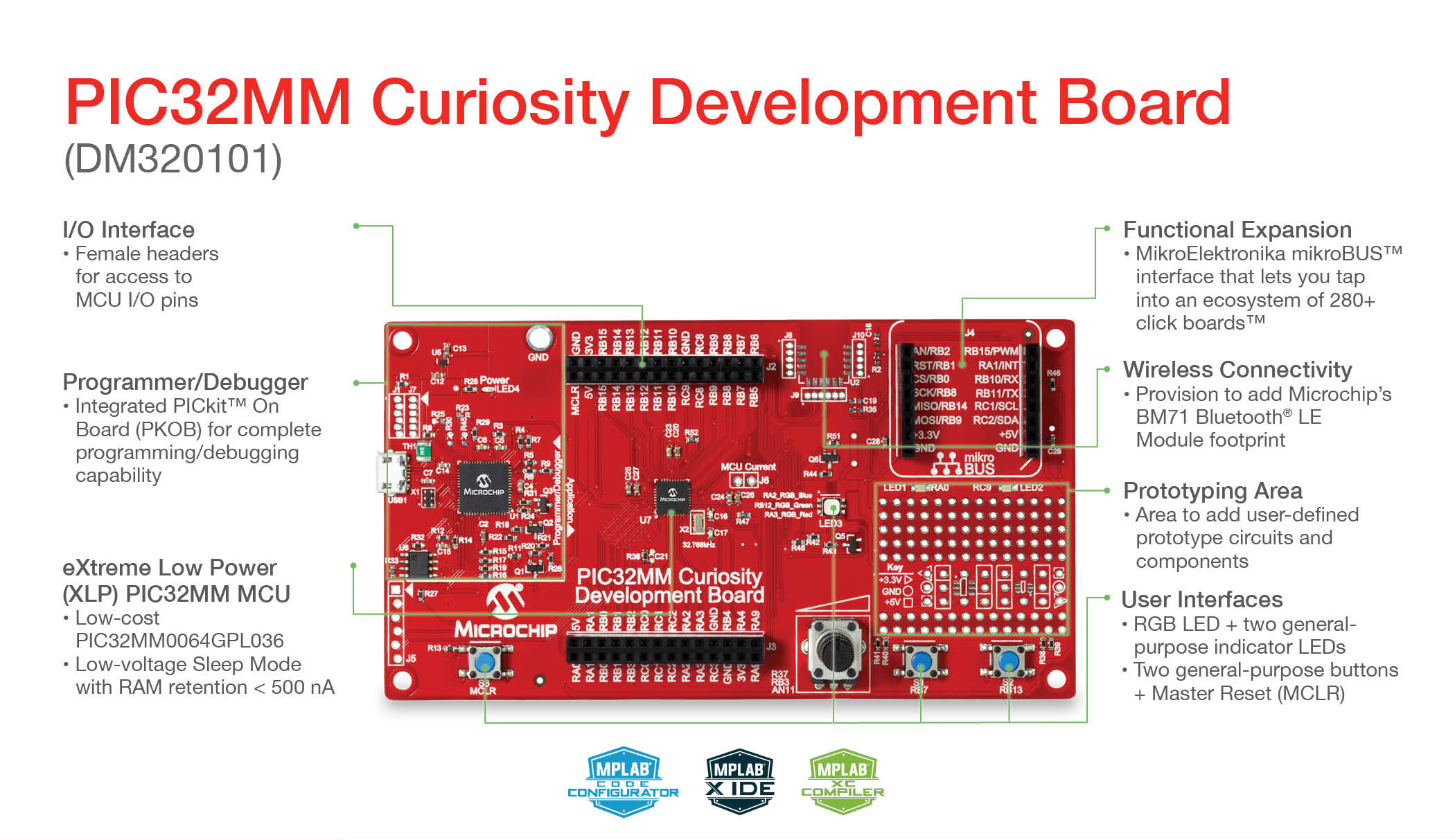 PIC32MM Curiosity Development Board(DM320101)
The PIC32MM Curiosity Development Board features the new eXtreme Low Power (XLP), PIC32MM "GPL" family (PIC32MM0064GPL036) of low cost microcontrollers. This board is a simple and easy to use platform that facilitates quick PIC32MM evaluation, experimentation and application prototyping. The board also includes an integrated programmer/debugger and offers seamless integration with Microchip's MPLAB® X IDE and MPLAB Code Configurator for easy set-up and development.
Expand your Curiosity:
Owing to its low power, low cost and expansion capabilities, the PIC32MM Curiosity Development Board is ideal for developing battery operated applications, portable medical monitoring devices and IoT sensor nodes. The board also offers various user interfaces like switches, LEDs, potentiometer and supports a MikroElektronika mikroBUS™ interface that lets you tap into an ecosystem of over 280+ add-on click boards™ enabling customers to accelerate application prototype development. 
Get Started: 
To help you hit the ground running right out of the box, we have pre-programmed the PIC32MM Curiosity Development Board with a RGB color mixing application. In this demo, the potentiometer can be used to adjust each color channel intensity, independently, while the push buttons are used to select the channel to be adjusted. The RGB color mixing demo can be downloaded from the related links below.
To further enable you to expand your applications, we have created various MikroElektronika click boards™ demos that can be downloaded from related links below.
Part Number
DM320101– PIC32MM Curiosity Development Board
Related Links: