MAS – Universal 60W DC/DC for USB-PD with very high efficiency: MAS6230

In addition to DC/DC converters for smaller embedded devices with a few watts of transmitted power, the need to develop solutions in the 50W range are growing, as more and more fast charging systems are needed for consumer electronics such as tablets or laptops. Especially for these mobile devices a power supply for "on the road" use e.g. for charging in the car customers ask for.
---
---
MAS offers with the MAS6230 an universal DC/DC converter, which can supply up to 60W:
---
Buck- & Boost-Mode
Input Voltage VIN: 7V bis 36V
Output Voltage VOUT: 4V bis 20V
Efficiency: > 90%
Output current in buck mode ≤ 3A
small 6.8mH inductor needed
---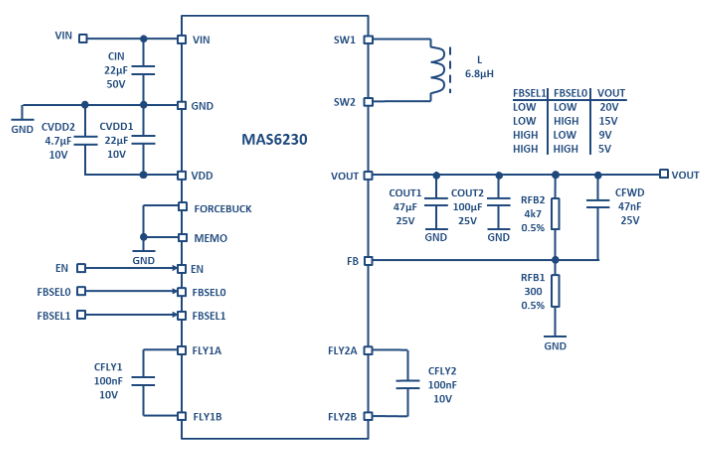 The output voltage of the voltage regulator can be adjusted via 2 external resistors. In addition, two pins can be used to switch between four different voltages. This makes the MAS6230 especially interesting for today's USB-PD power supplies, because the typical voltages 5V, 9V, 12V and 20V can be realized directly in a very simple way as the circuit on the left shows.
---
In addition, the MAS6230 can be configured to switch between buck and boost modes automatically. Thanks to an integrated hysteresis, the system does not require any special tolerances from the external components.
---
The integrated over-temperature protection (OTP) as well as an overvoltage protection (OVP) for the output voltage ensure that typical error conditions cannot occur in operation.
---
Talk to our application team about your requirements so that we can support you together with MAS e.g. selecting external components or thermal management.