Improve Digital Support of Battery Charging and DC-DC Conversion Applications with New Digitally Enhanced Power Analog Controllers from Microchip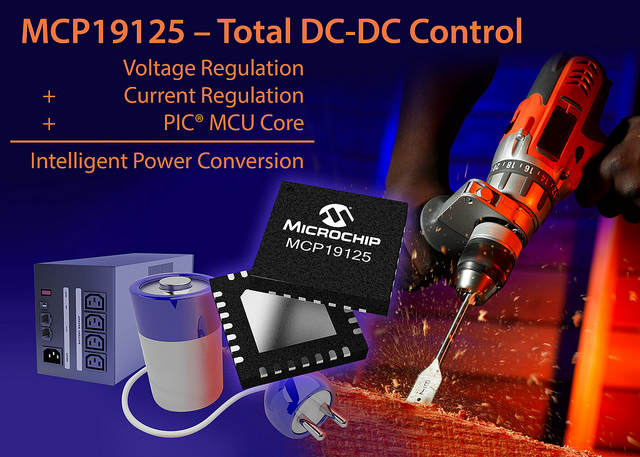 MCP19124/5 Contains Independent Voltage and Current Control Loops Plus a Full Suite of Configurable Performance Parameters
A new Digitally Enhanced Power Analog (DEPA) controller designed to regulate current, regulate voltage and monitor temperature is now available from Microchip
The MCP19124/5 handles configurable charging algorithms for any chemistry, with capabilities for cell balancing and super capacitor charging. No other single-chip battery charging solution can be configured with any desired charging profile, for any battery chemistry, voltage or cell arrangement. Users may develop their own unique charging methods and implement them as well. Any voltage, current, temperature or duration can be used to trigger a transition to a new portion of the charge profile.
Key Features of the MCP19124/5:
Smooth, dynamic transitions from constant-current to constant-voltage operation using the unique control loop architecture
Dynamically adjustable output current and output voltage over a wide operating range
Wide operating voltage range: 4.5-42V
Analog peak-current mode Pulse-Width Modulation (PWM) control
Integrated 8-Bit PIC® Microcontroller
Significant configurability: adjustable output voltage, output current, MOSFET deadtime, leading edge blanking time, thermal responses, slope compensation, over-current protection, over and under voltage lockout levels
Available fixed frequency or quasi-resonant operation, adjustable 31 kHz to 2 MHz
I2C communication interface
13 GPIO
Integrated synchronous low-side MOSFET drivers
Integrated high voltage linear regulator, with external output
Integrated temperatures sense diode
Integrated 10 bit A/D converter
Minimal external components needed
Custom algorithm support
Topologies supported include Boost, SEPIC, Flyback, and Cuk
For more information about MCP19124/5, please contact your local Ineltek office for sample-, datasheet- or technical inquiry or: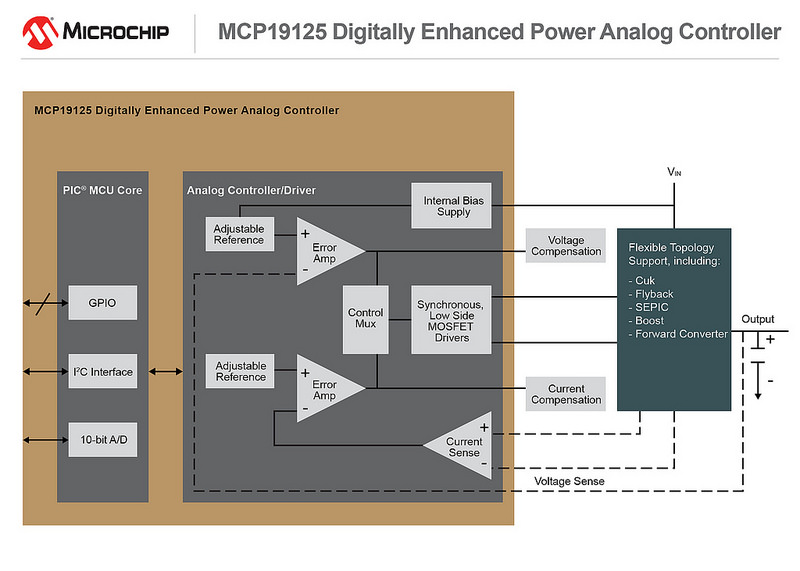 Pricing and Availability
The following devices are available in volume production.
MCP19124-E/MJ, 4 x 4 mm QFN package
MCP19124T-E/MJ, 4 x 4 mm QFN package, (tape and reel not available for samples)
MCP19125-E/MQ, 5 x 5 mm QFN package,
MCP19125T-E/MQ, 5 x 5 mm QFN package, (tape and reel not available for samples)
To receive even more information like technical data sheets or price information please contact an Ineltek office within your area or contact us at info@ineltek.com.