Highspeed Digital Imaging Applications with Microchip`s CoaXPress 2.0 solution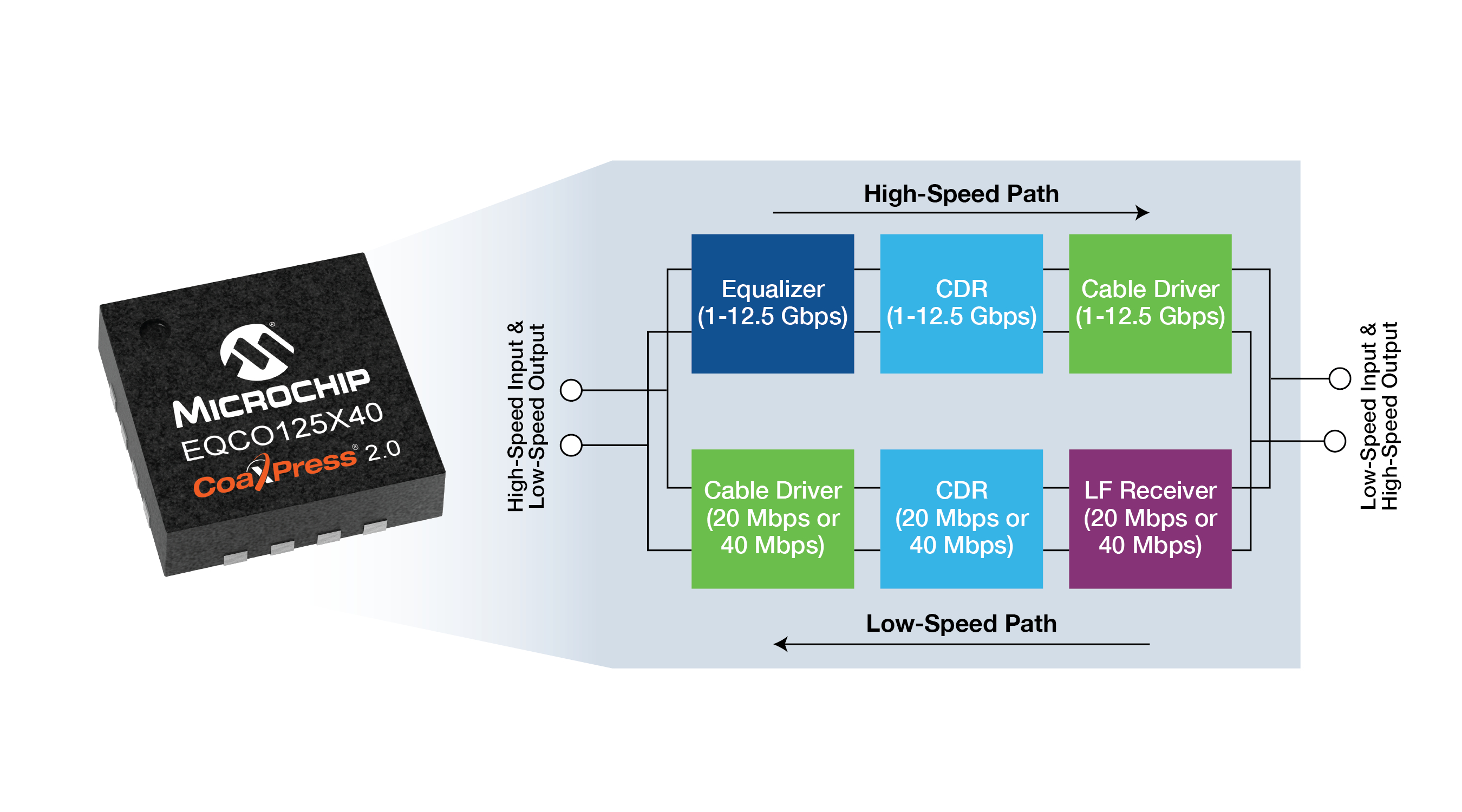 Offering a significant improvement in speed over CoaXPress v 1.1, CoaXPress 2.0 extends the data transfer rate up to 12.5 Gbps for cables lengths of up to 40m, and up to 40 Mbps for bidirectional communications. It supports higher frame rates or higher camera resolutions for developing even higher-performance video imaging systems.
Key advantages of this new version of the standard include:
In addition to the CoaXPress 1.1 data rates of up to 6.25 Gbps, it supports 10 Gbps (CXP-10) and 12.5 Gbps (CXP-12) data rates and doubles the cable bandwidth so you can use fewer and more flexible cables and fewer frame grabber cards
A single camera can send data to more than one frame grabber, which can be located in different PCs
The doubled uplink speed of 40 Mbps enables trigger rates over 500 kHz without requiring a dedicated high-speed uplink cable
It offers easy migration and backwards compatibility with CoaXPress 1.1 to preserve your investment in previous systems and products

Microchips CoaXPress 2.0 family of devices has been designed in conjunction with the development of the CoaXPress 2.0 specification. These devices deliver unprecedented speed, performance and flexibility to help you keep pace with leading-edge industrial, embedded and machine vision application requirements. A true all-in-one solution, these devices incorporate an integrated equalizer, a cable driver plus these two unique features, which enable camera and capture card manufacturers to relax their design tolerances:
Integrated signal integrity test capability to indicate when cable link is in jeopardy due to design, cable wear or aging
Camera-side low-frequency clock recovery to eliminate the need to program the low-frequency clock on the capture card side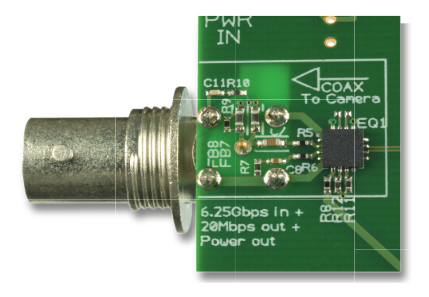 | | |
| --- | --- |
| Bit Rate (Gbps) | Typical Maximum Cable Length (m) |
| 1.25 | 130 |
| 2.5 | 110 |
| 3.125 | 100 |
| 5 | 65 |
| 6.25 | 55 |
| 10 | 40 |
| 12.5 | 40 |
Microchip collaborated with industry partners to provide a complete connectivity solution that leverages the benefits of CoaXPress technology for developing autonomous driving and ADAS applications. The diagram below demonstrates how to implement two MIPI CSI-2 to CoaXPress bridges for a camera sensor node and an Engine Control Unit (ECU) node. This solution transports aggregated sensor data from two 8-megapixel image sensors while also providing a simultaneous 40 Mbps uplink for control and power over a single automotive coaxial cable with four inline connectors.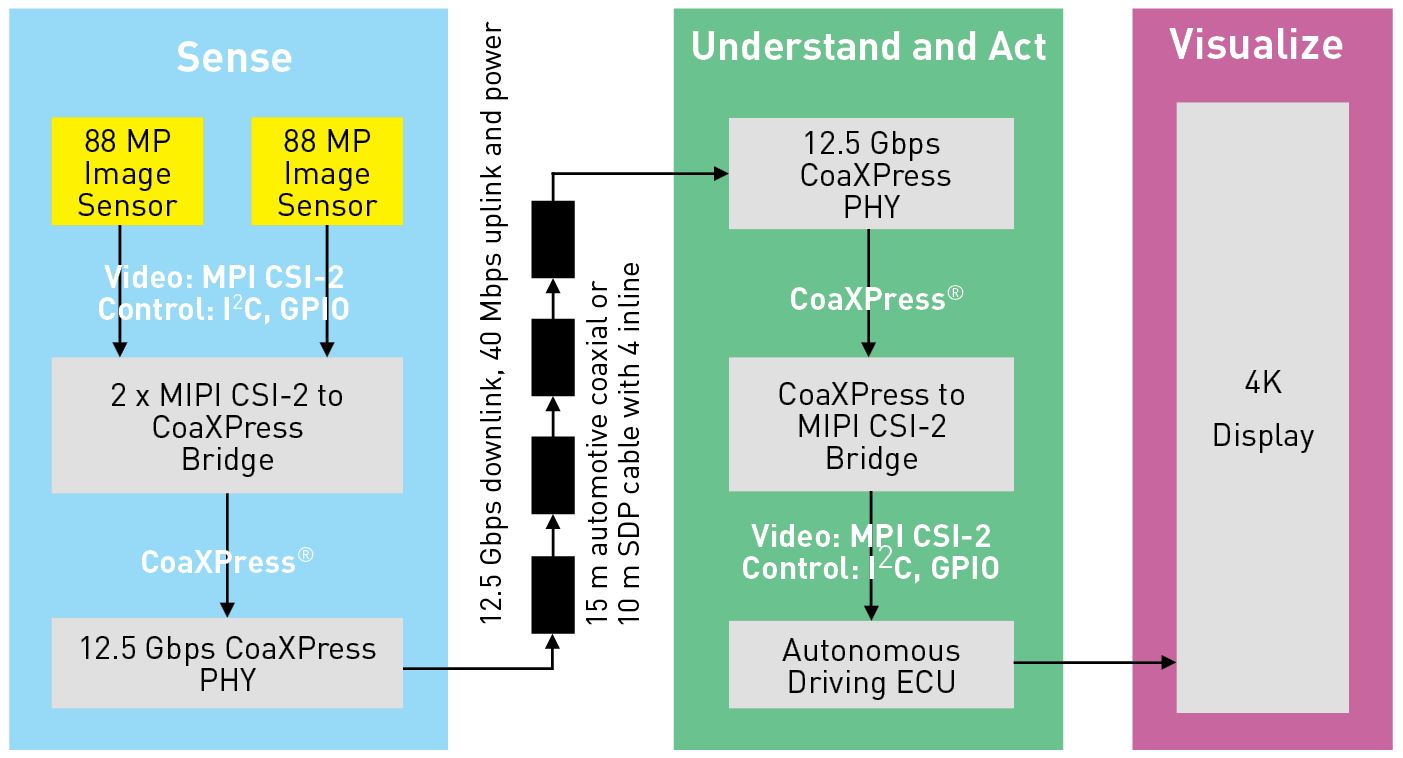 CoaXPress 2.0 Products:
EQCO125X40 12.5 Gbps transceiver (cable driver and equalizer) chip; can also be used as a 12.5 Gbps (or lower-speed) cable extender/repeater chip
EQCO125T40 12.5 Gbps transmitter (cable driver) chip
EQCO62X20 6.25 Gbps transceiver (cable driver and equalizer) chip; can also be used as a 6.25 Gbps (or lower-speed) cable extender/repeater chip
EQCO31X20 3.125 Gbps transceiver (cable driver and equalizer) chip; can also be used as a 3.125 Gbps cable extender/repeater chip