Embedded World Product Highlights 2015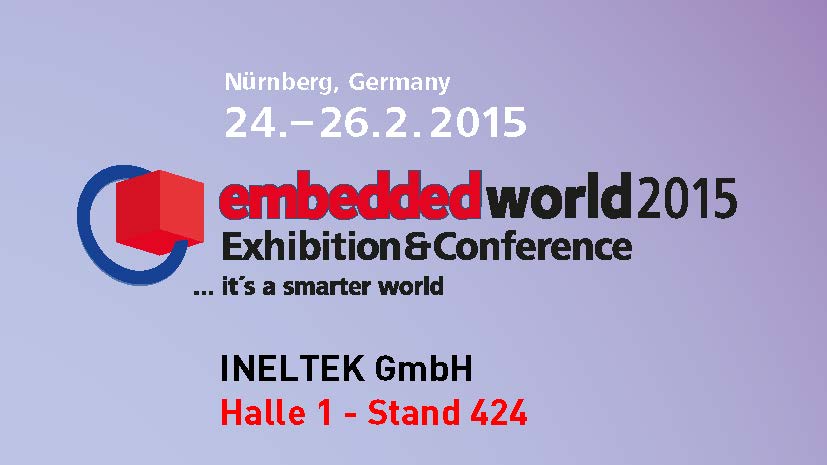 We would like to invite you to visit our Booth 424 in Hall 1 at Embedded World from 24th – 26th Feb. 2015 in Nuremberg.
We are proud to present you with our latest product highlights from our suppliers including new MCU, MPU, Motor Control, Lighting, Sensor, Power, Display, Wireless, Crypto devices that have been added to our portfolio.
We are pleased to inform you that our well-trained technical Field Application Engineers and different technical experts from our suppliers will support you with detailed product information and background knowledge on each product you are interested in.
Below you will find some special product highlights we are announcing in advance:
EPDs: Segment, Active Matrix, Flexible Active Matrix, Color Active Matrix                     
FSC Displays & 5" Full HD LCD TFT
Epson Low Cost TFT LCD Controller
New: Cortex A5 for High-Performance Applications
New: Cortex M7 for Multimedia, Industrial & High Performance Gateways
New: Low Cost Cortex M0+
New: Cost Optimized AVR Mega-PB-series
Magnetic Position Sensors
New: BOSCH SENSORTEC MEMS Sensors
Intelligent Hall Sensors & High-Precision Quartz MEMS Sensors
New: small & energy efficient Wi-Fi / Bluetooth / BT4.0 Modules
New: LR IoT & HF / UHF RFID
SoC Motor Control ICs with FOC
Crossplexing LED Drivers
New: AC Direct LED Drivers with Dimming Function
Wireless Charging Solutions
Please do not hesitate to contact us if you would like to arrange a special meeting with our Ineltek staff to clarify your application requirements. Please use the following e-mail address to get in contact with us: info@ineltek.com
We look forward to seeing you next week during Embedded World 2015 from 24th – 26th Feb. 2015.
Your Ineltek Team