Dialog Semiconductor – SLG47105 – Cost and lead time optimization for motor control applications
To control a motor lots of standard functions are required and thus a large number of discrete electronic components. Besides the microcontroller for running the control algorithm, motor driver ICs, operational amplifiers for the motor current feedback values and watchdog ICs for monitoring the system are necessary. In times of significant extended lead times for electronic components a long BOM bears the risk of production stops due to the unavailability of a component.
What if there is only 1 central component to consider with a delivery time of about 8 weeks?
For DC, 1-Ph. BLDC or stepper motor applications with voltages up to 12V (soon 24V), the so-called HV PAKs of the GreenPAK family from Dialog Semiconductor can provide relief in several aspects.
---
The 4 outputs of the half bridges (each delivering up to 2A) can be configured flexibly as 2 full bridges or used in half bridge mode.  If necessary, the half bridges can also be used in parallel to increase the current load capacity.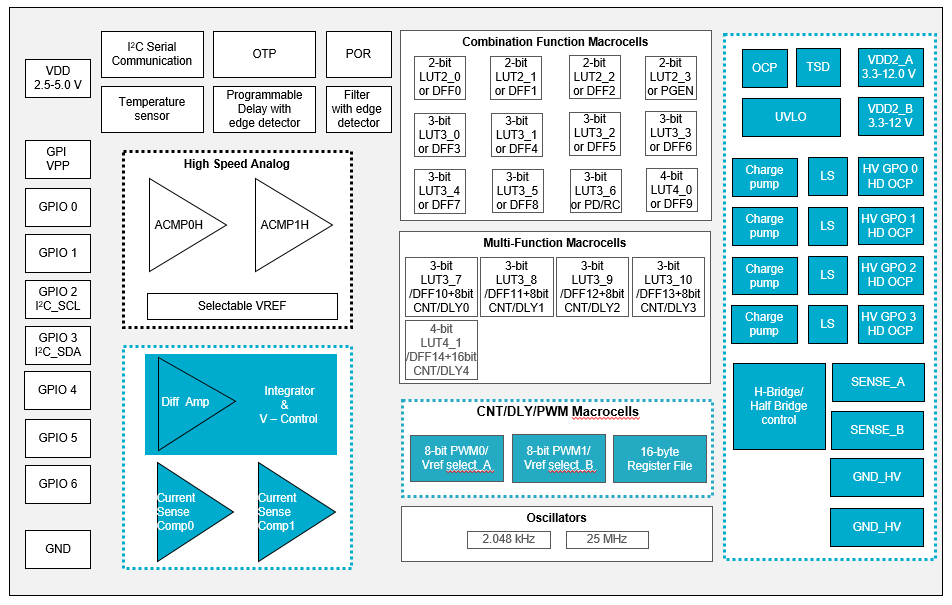 8-bit PWM macro-cells designed for motor control and additional analogue function blocks enable speed control of the motor.
It is worth mentioning that there are additional shunt comparators (with integrated PGAs), which are intended for current feedback monitoring which can be set in very small 32mV steps.
---
The integrated delay blocks with switching edge detection and logic cells can be used to optimize the motor control signals accordingly.
Since there are sufficient number of LUTs as well as freely configurable GPIOs, the integration of the watchdog functionality parallel to the motor control is no problem. Other safety functions such as temperature shutdown or overcurrent detection can also be implemented in hardware directly.
The oscillators in the GreenPAK IC result to a further reduction of the BOM. No external quartz or crystal oscillator is necessary anymore.
In certain applications, the variety of functions and the flexibility in the use and combination of the integrated function blocks make it possible to eliminate the need for a host microcontroller completely.
---
For a quick introduction to the topic of DC motors, Dialog Semiconductor has developed an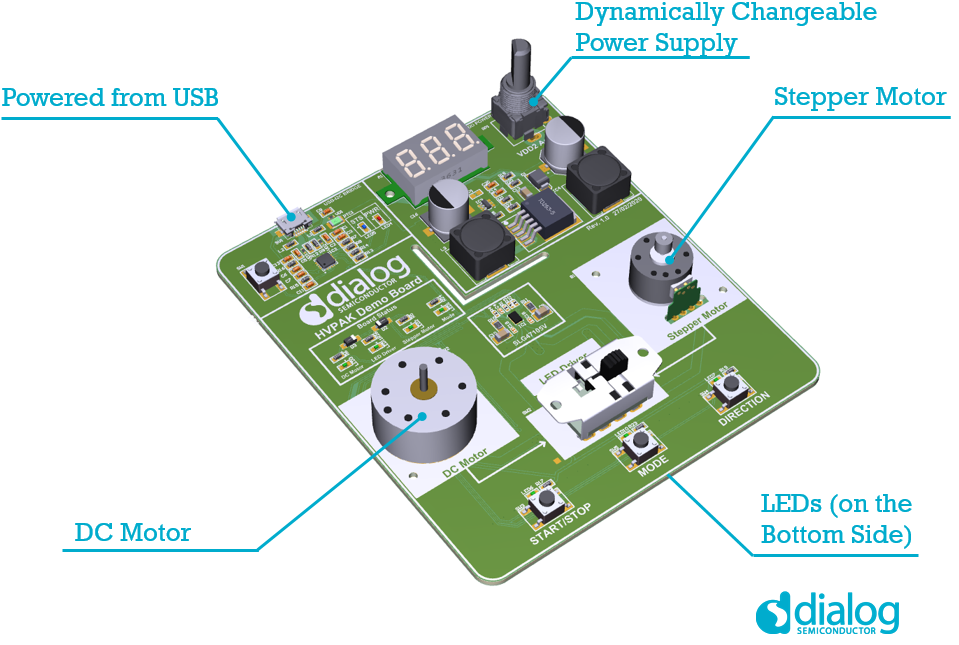 evaluation kit that ensures extensive testing of the SLG47105.
The application note AN-CM-295 describes the control of stepper motor, AN-CM-296 the use with a brushed DC motor.
---
Contact us for details of how an SLG47105 or the new derivatives of the HV PAK family can help you save costs in your motor control application and ensure continuous production:
---