AVR and PIC-BLE Development Boards
Out of the box and connected in 30 seconds
The eXtreme Low Power technology of PIC and AVR microcontrollers combined with Bluetooth Low Energy (BLE) modules in two compact and easy to use development boards. Add CryptoAu thentication ™ secure elemen t, a MEMS sensor, an accurate temperature sensors and 4Mbit o f additional non volatile storage (SuperFlash), these boards offer the most simple and effective way to connect embedded applications to any mobile and IoT platform. Choose between your favorite AVR or PIC microcontroller architecture to make an easy and secure low power sensor solution.
Smart
At the heart of the BLE Development Board is your choice of microcontroller. Choose the AVR or PIC MCU that you are most comfortable with. These powerful and efficient MCUs allow you to bring your wearable, mobile and IoT sensors to life. For rapid prototyping, the BLE Development Boards are supported by both Studio 7 and MPLAB X IDEs as well as graphical development tools such as START and MCC.
Connected
Featuring extremely low power consumption, the RN4870 BLE modules provide unlimited wireless connectivity options via a simple AT command set over a serial port (UART).
An additional 4Mbit SuperFlash memory provides the bulk storage space to allow your application to receive Over The Air (OTA) updates, and / or buffer locally large amounts of sensor data.
Secure
The integrity of any network is determined by its weakest link. As the attack surface of IoT devices continues to grow with clear acceleration, security can no longer be an afterthought. The BLE Development Boards entrust data encryption to the latest in Microchip's CryptoAuthentication™ portfolio, the hardware based ATECC608A. By employing ultra-secure key storage, cryptographic countermeasures and obscuring private keys from both users and software this secure element ensures the highest fidelity of your transmission into the Cloud.
Beyond
The on-board mikroBUS™ connector allows for both the seamless integration of any MikroElektronika Click Board™ and the ability to quickly interface with other sensors or actuators that support the popular mikroBUS™ footprint. With over 700+ Click™ boards to choose from this board can rapidly be made into an IoT enabled motion detector, heart rate monitor, or anything else you can imagine.
USB Mass Storage interface allows easy drag-and-drop update of the microcontroller Flash memory
The USB can also be used for diagnostics and to support a command line interface.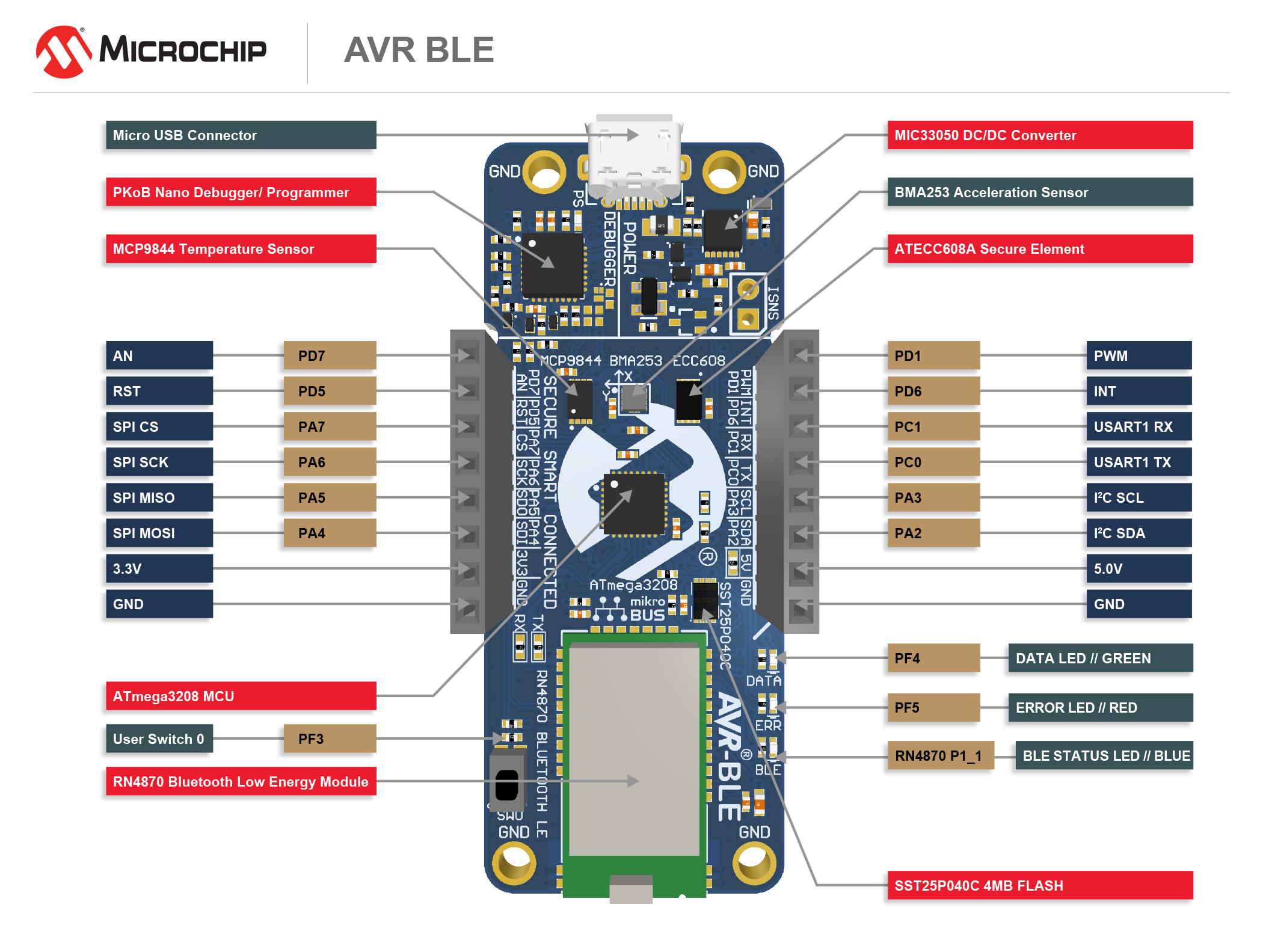 Key Applications
• Wearable – Health (blood pressure, heart rate…)
• Mobile connected sensors and actuators (office and home automation…)
• Secure BLE applications (meters, locks…)
• IoT Connected Sensors (connect to AWS GreenGrass, Google and Azure gateways…)
AVR-BLE Development Board

DT100111 PIC-IoT WG Development Board – DT100112

 

AVR RISC CPU, 32KB Flash Memory & 4 KB SRAM

Featuring: 20MHz operation, Event System, CCL

PIC16F1 CPU, 28KB Flash Memory & 2 KB SRAM

Featuring: 12-bit ADCC for cap. sensing applications

Protected Storage for 16 Keys, SHA256, AES-CCM, ECDH (Elliptic Curve Diffie-Hellman), ECDSA

Bluetooth 5 Certified Module for use in USA, Canada, Europe, Japan, Korea, Taiwan and China

MCP9844 Digital Temperature Sensor

JEDEC (JC42.4-TSE2004B1) mobile Platform Memory Module Thermal Sensor

Accuracy of ±0.2°C/±1°C (typical/maximum) from +75°C to +95°C.

600mA PWM Control Scheme, HyperLight Load®

BMA253

The BMA253 is a triaxial, low-g acceleration sensor with digital output for consumer applications.

SST25PF040C

4 Mbit SPI Serial Flash

• IDE: Atmel Studio 7 [Link] or MPLAB X [Link]

• Rapid Prototyping: Atmel START [Link] or MPLAB Code Configurator [Link]

• IDE: MPLAB X [Link]

• Rapid Prototyping: MPLAB Code Configurator [Link]

• Use with the free popular LightBlue© Explorer [link] App (Apple and Android app stores)