Microchip`s next 8-bit MCU from Next-Generation tiny-AVR Family – ATTINY3217
Demonstrating Microchip's commitment to supporting the strong legacy of the AVR® family of 8-bit microcontrollers (MCUs), this tinyAVR® family expands the performance of the latest generation of AVR MCUs. These devices incorporate several features including Core Independent Peripherals, a Peripheral Touch Controller (PTC) and a Peripheral Event System. These devices are also supported by Atmel START, an intuitive, online graphical configuration tool for embedded projects that allows you to configure drivers and software for your device.
tinyAVR devices offer an unrivalled combination of miniaturization, processing power, analog performance and system-level integration. The tinyAVR MCU is the most compact, feature-rich device in the AVR family.
ATtiny3217 Key Attributes
Internal 20 MHz oscillator
Up to 32 KB of FLASH memory
Up to two 10-bit ADCs
Peripheral Touch Controller (PTC)
8-bit DAC
Cyclic Redundancy Check (CRC) scan
16-bit real time clock and periodic interrupt timer
Advanced 12-bit timer/counter for control applications
Configurable Custom Logic (CCL) peripheral
6-channel Peripheral Event System
Analog comparator reference input
Configurable, internally generated reference voltage
Event System
The Event System allows peripherals to communicate directly with each other without involving the CPU or bus resources. The Event System is network independent of the traditional data bus paths. This means different triggers at the peripheral level can result in an event, such as a timer tick triggering a reaction in another peripheral. The Event System has six independent channels and offers a fixed latency of two cycles. Since there is no jitter, it is 100% deterministic method and a perfect fit for real-time applications. No events are lost, and they are handled at a peripheral level in two cycles, even if the CPU is performing a non-maskable interrupt.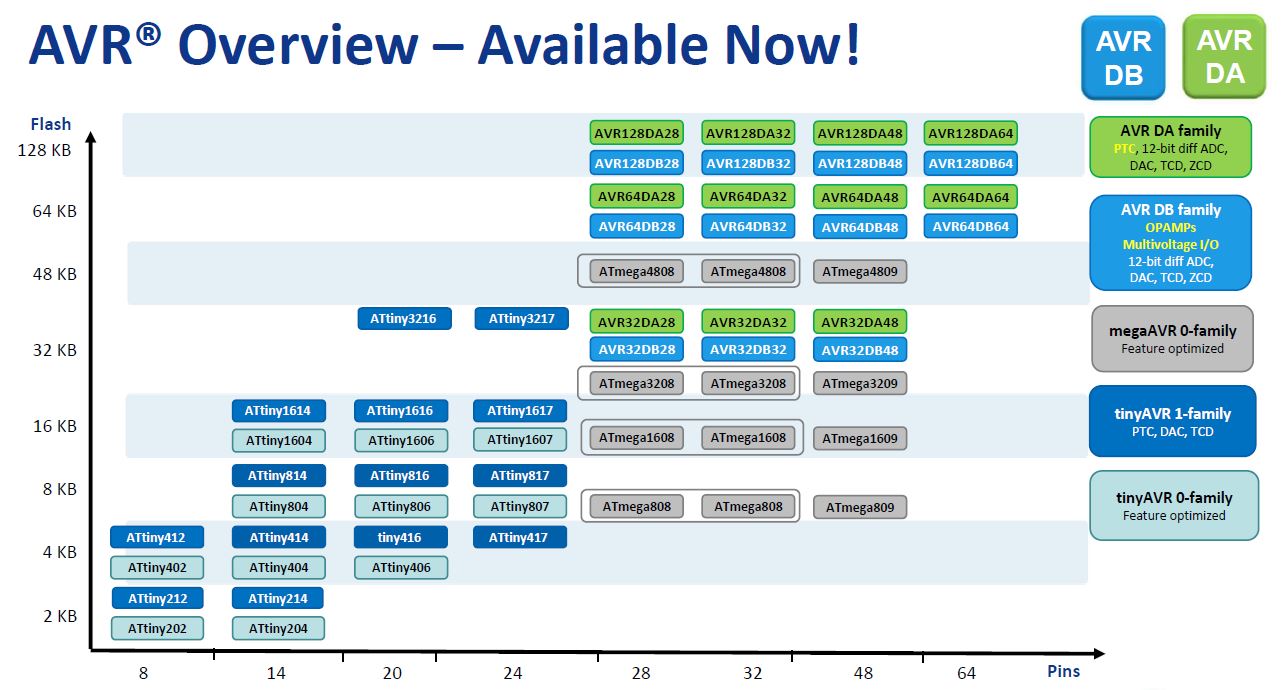 The ATtiny3217 Xplained Pro is the ideal platform for rapid prototyping with these new tinyAVR® MCUs. The USB-powered kit features an onboard programmer/debugger that seamlessly integrates with Atmel Studio, to offer an easy and convenient way to evaluate the device. The board also comes with touch buttons, LEDs and extension headers for quick setup.
For development with the smaller memory derivatives of the tinyAVR family, we also recommend the ATtiny817 Xplained Pro Kit.