ams – AS7220 Smart Daylighting Manager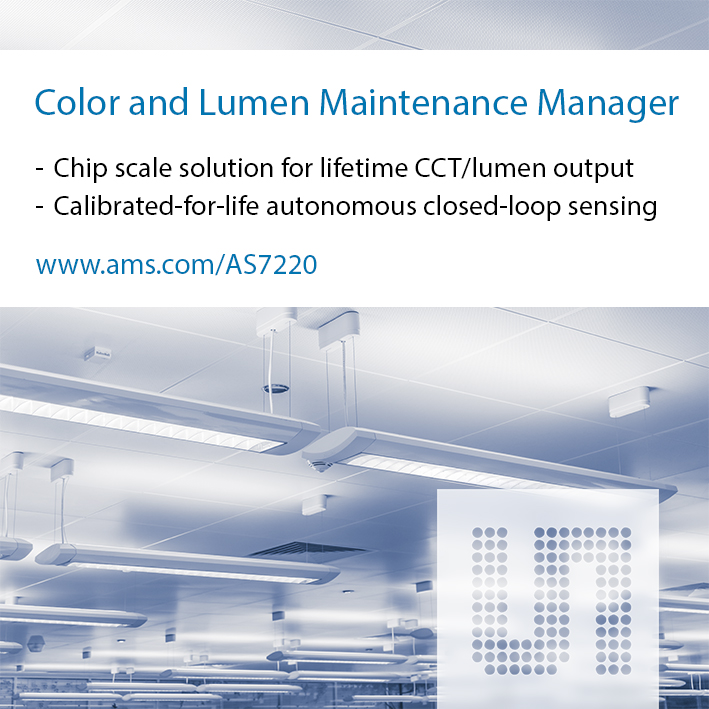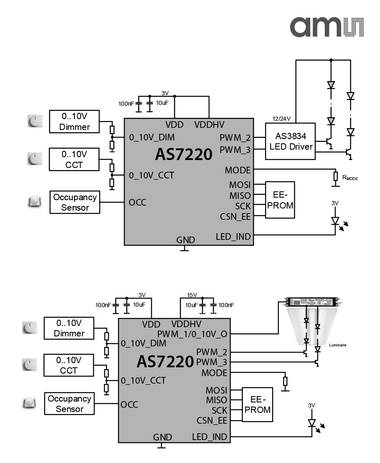 The AS7220 Calibrated CCT and Lumen Maintenance Smart Lighting Manager is equipped with an advanced Cognitive Lighting Engine (CLE) to optimize CCT and lumen and color maintenance via a combination of PWM and/or 0-10V controls with dimming ballasts. Configurable single CCT lifetime target values are stored by the luminaire manufacturer within the attached flash EPROM, or are selectable using an I²C port expander. Target lumen output lux-criteria are similarly configurable and are used by the AS7220 to correlate internal lux to manage PWM mapping to allow automatic compensation for lumen output to be maintained over the life of the light.
CIE Tri-Stimulus XYZ chromatic white/color sensing provides accurate CCT measurement to allow closed loop compensation to the preset target. The AS7220 is delivered fully calibrated, while the integrated intelligence enables lifetime CCT calibration to within 2-4 Macadam steps.
Key Features
XYZ tri-stimulus chromatic sensing
Delivers algorithmic closed loop target point white CCT and lumen output tuning (single CCT)
Presets configurable into flash memory, or via I²C port expander
Calibrated nano-optic silicon interference filters
20-pin LGA 4.5 x 4.7 x 2.5mm, 0°C to +85°C
Key Benefits
Accurate supervision to a single CCT target to maintain color temperature over lifetime
Delivers lifetime lumen maintenance via internal lux-to-PWM remapping
Rapid luminaire integration
Lifetime-calibrated sensing
Compact package with no added optics required
Product Facts
| | |
| --- | --- |
| Sensor Type | CIE Tri-Stimulus XYZ |
| Application | Closed loop color point and lumen compensation |
| UART | No |
| Reference Networking | n/a |
| Smart Ltg Command Set | n/a |
| Lux/CCT Control | Hardware Config |
| I²C | Master |
| Package | 20-pin LGA with aperture |
To receive even more information like technical data sheets or price information please contact an Ineltek office within your area or contact us at info@ineltek.com.