SAMA5D4 ARM-based Cortex-A5 MPUs optimized for 720p video playback with advanced security
Atmel will announce the expansion of the Atmel® | SMART™ portfolio with the SAMA5D4, a new series of high-performance microprocessors (MPUs) based on the ARM® Cortex-A5 family.
SAMA5D4 Key Benefits:
720p Video playback up to 30fps.  The hardware video decoder supports the following formats: H264, H263, VP8, MPEG-4ASP, and JPEG.
ARM NEON SIMD (single instruction, multiple data) engine for accelerated signal and data processing, as well as a 128kB L2 cache for improved system performance.
Advanced security functions including on-the-fly encryption and decryption of code from the external DDR memory, hardware accelerated RSA/ECC public (asymmetric) key cryptography, tamper pins detection, secure key storage, and more.
A configurable 16-bit or 32-bit DDR memory interface for the best trade-off between performance and memory cost.
SAMA5D4 Devices: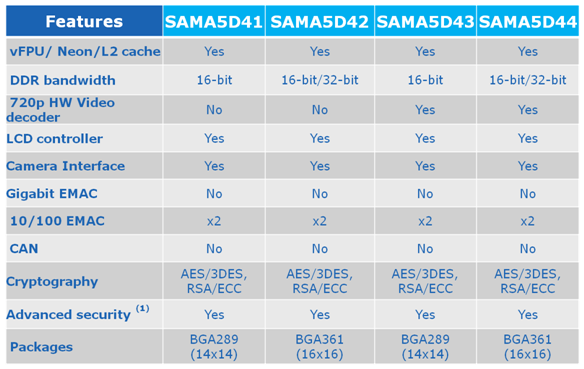 (1) ARM Trust Zone, secure boot, encrypted DDR bus, tamper detection pins, secure key storage, hardware encryption RSA, ECC, AES, 3DES, SHA, TRNG.
Atmel Software and Ecosystem
Atmel provides the following software solutions, available at product launch:
| | |
| --- | --- |
| Free Linux kernel 3.10 (www.linux4SAM.com or at Github) including video support with Gstreamer, Bootloaders, kernel, root file system. Yocto distribution and Mainline Publication have started. |   |
| | |
| --- | --- |
| Software package version v1.1 (Go to www.atmel/SAMA5D4 tab tools) supporting IAR EWARM (embedded workbench for ARM) and GCC. |   |
| | |
| --- | --- |
| Secure boot loader and secure SAM-BA software tools available under NDA via Atmel Sales (please enter Use: 'SalesForces' to enter your request) |   |
To provide a robust ecosystem, we also partner closely with several providers that have solutions for SAMA5D4 such as Crank (UI solution), Timesys (QT SDK), Ittiam (H264 codecs), Free Electron (Linux mainline), Segger (emBOS RTOS),  NuttX RTOS, FreeRTOS, and Activesemi. ExpressLogic, eforce, ACME, and Shiratech will have solutions in the near future.
Target Applications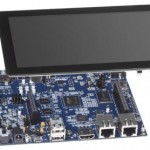 Consumer and industrial applications including control panels, HMI (human-machine interfaces), fitness equipment, communication gateways, imaging terminals, and more.  Consider the great benefits of a hardware video decoder for UI application compared to the more expensive Freescale IMX6 . The advance security features will protect your customer's SW assets, securely transfer data, or store critical keys.

One evaluation kit covers all SAMA5D4 devices and comes with with a 7-inch WVGA capacitive touch display, Linux demonstration software, a QT5-based user interface demo, and a 720p video playback example. A treadmill demo from CRANK software will be available for download shortly after the product launch.
For more information please visit Atmel web page SAMA5D4 series.