PIC® Microcontroller

Microchip 8-bit PIC® Microcontroller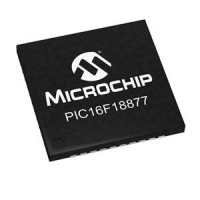 PIC® microcontrollers are finding their way into new applications like smartphones, audio accessories, video gaming peripherals and advanced medical devices. Microchip provides solutions for the entire performance range of 8-bit microcontrollers, with easy-to-use development tools, complete technical documentation and post design-in support through a global sales and distribution network. 
---
Microchip 16-bit PIC® Microcontroller
Microchip's 16-bit, PIC24 MCUs and dsPIC® Digital Signal Controllers provide designers with an easy upgrade path from 8-bit PIC® microcontrollers and a cost effective option to 32-bit MCUs. The broad product line includes everything from eXtreme Low Power microcontrollers to high performance digital signal controllers. With single cycle execution, deterministic interrupt response, zero overhead looping, and fast DMA, the dsPIC family also adds a single cycle 16x16 MAC and 40-bit accumulators, ideal for math intensive applications like motor control and digital power.Combined with hardware and free software, these 16-bit products are ideal for designs including high efficiency Motor Control, platinum-rated Digital Power Supplies, and Low Power for longer battery life in portable applications. Integrated touch and display features help lower costs and simplify designs for user interfaces including mTouch® Sensing, Graphics, and Segmented Display drivers. Also specialized peripherals and software for Connectivity such as USB, CAN and wireless protocols make it easy to communicate with other systems.
---
Microchip 32-bit PIC® Microcontroller
Microchip's 32-bit portfolio with the MIPS microAptiv or M4K core offer high performance microcontrollers, and all the tools needed to develop your embedded projects. With MPLAB® Harmony software framework, low cost development tools and pin/peripheral compatibility from 16-bit product lines, PIC32 MCUs shorten time to market and allow your designs to grow. PIC32 MCUs gives your application the processing power, memory and peripherals your design needs!
Leading Performance